Bose SoundLink Flex Portable Bluetooth Speaker with Waterproof/Dustproof - Black (New)
Condition: Certified Refurbished
Regular price

$149.99

Sale price

$119.99
CLICK HERE for the Condition Guide
PRODUCT OVERVIEW
The SoundLink Flex wireless Bluetooth speaker is engineered to deliver clear, deep sound that's powerful enough to fill a room and loud enough for outdoor adventures. Whether hanging from a backpack or lying flat by the pool, the speaker's PositionIQ technology optimizes the sound for natural audio. The SoundLink Flex portable speaker has a sophisticated, inviting aesthetic and industrial design that blends durability, portability, and utility. With its silicone body, powder-coated steel grille, and reliable utility loop, this wireless speaker goes where you go and plays like you play. Listen to music while hiking, camping, or paddle boarding. Its highly durable materials allow it to withstand the elements and accidental mishaps, from drops to shocks. Its utility loop can attach to a clip or carabiner, so you can hang your speaker almost anywhere. And the Bluetooth outdoor speaker has been rigorously tested to meet an IP67 rating, which means it's waterproof and dustproof. So, don't worry if it accidentally falls into water or gets caught in the rain. SoundLink Flex also has a long-lasting battery life, offering up to 12 hours of unplugged play time per charge. For even more immersive sound, pair your SoundLink Flex with another Bose Bluetooth speaker, or connect it to a Bose smart speaker to extend your listening experience from inside the home to outside. Available in Black, White Smoke, Stone Blue, and Carmine Red. 
KEY FEATURES
Astonishing sound. Wherever life takes you - The SoundLink Flex portable Bluetooth speaker plays crisp, clear sound that is free of distortions, so you can hear each instrument and nuance in the vocals. The treble and bass are perfectly balanced, allowing you to hear every pitch.
Tilt it. Flip it. Hang it - It doesn't matter whether SoundLink Flex is upright on the kitchen counter, hanging from a backpack, or flat on its back at the beach. Its PositionIQ technology automatically detects its orientation and ensures natural, lifelike sound in any position.
Innovative technology for an inspired performance - A product of Bose's state-of-the-art engineering, SoundLink Flex is packed with exclusive technologies. Its innovative transducer is custom-designed to deliver the clearest possible sound and strong, deep bass you can feel in your chest.
A rugged exterior that withstands the elements - With its powder-coated steel grille and silicone exterior, this outdoor speaker is adventure-ready. Premium materials provide a tight seal around electronics, protecting them from water, dust and debris.
Elegant design that sets you apart from the crowd - With its unique ergonomic design, the wireless speaker is easy to hold and feels good in your hand wherever you grab it. Its compact size allows it to fit in a small space or bag.
Hang it using the utility loop - With its rugged utility loop, you can attach this outdoor Bluetooth speaker to a carabiner, hang it from a beach chair, or secure it to a strap on your backpack on a hike. Designed to resist twisting, the loop won't spin or turn when it's hanging.
Dustproof & waterproof - With an IP67 rating, the SoundLink Flex is a waterproof Bluetooth speaker. Don't worry if it accidentally falls into water, it will float, so it's easily retrievable. The wireless speaker is also protected against dust, so you don't need to worry if it gets sandy at the beach.
A long-lasting battery that goes the distance - The rechargeable lithium-ion battery for SoundLink Flex portable speaker offers up to 12 hours of unplugged play time — enough to last throughout the day.
Make and answer phone calls - With a built-in microphone, you can receive and make phone calls through SoundLink Flex. Plus, you can press and hold the multifunction button on SoundLink Flex to access your phone's native voice assistant, like Siri or Google Assistant.
Bose SimpleSync technology - Pair your SoundLink Flex with another Bose Bluetooth speaker for louder, even more immersive sound. You can also pair your speaker with select Bose smart soundbars. Connect at the press of a button.
Additional Information

Model Number: 865983-0100

UPC: 17817832014
Share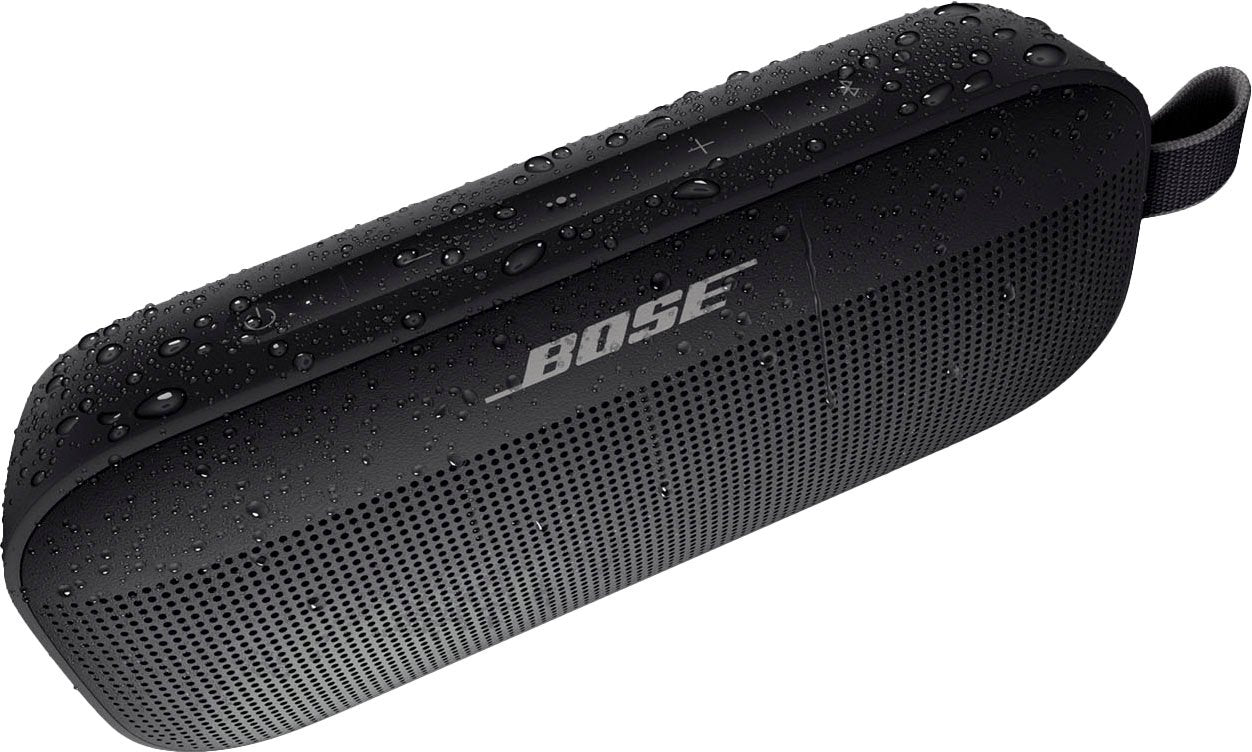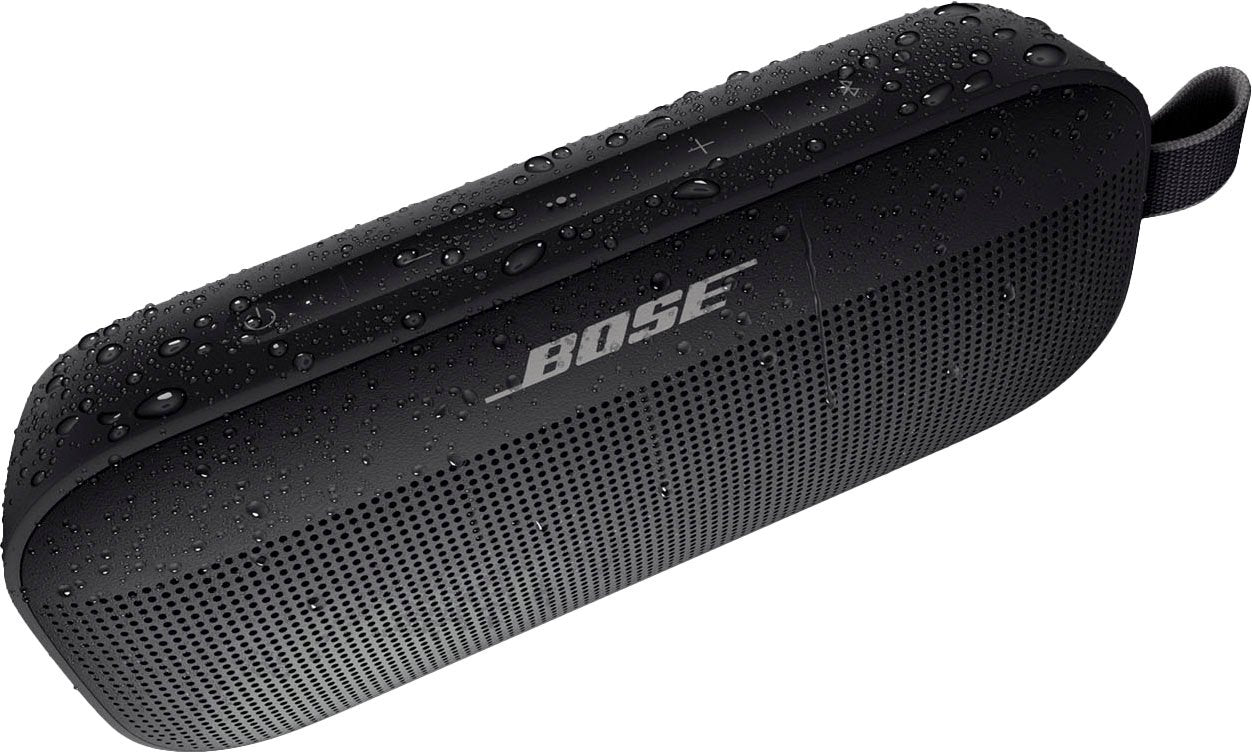 Condition Guide