NETGEAR Orbi AC1200 Dual-Band Mesh Wi-Fi System (3 Pack) - White (Certified Refurbished)
Condition: Certified Refurbished
Regular price

$199.99

Sale price

$77.99
CLICK HERE for the Condition Guide
PRODUCT OVERVIEW
This Orbi whole-home Mesh Wi-Fi system delivers up to 1.2 Gbps high-performance Wi-Fi with up to 4500 sq. ft. of coverage. Expand your home's Wi-Fi coverage and eliminate Wi-Fi dead zones and buffering. Keep a single Wi-Fi name for uninterrupted connections as you move from room to room. Orbi works with your Internet service provider and is recommended for homes with download speeds up to 50 Mbps. Use the Orbi app to get online in minutes. Create a guest network, access parental controls and NETGEAR Armor, and run speed tests and pause the Internet for any device on your network, right from the app. Keep your family safe from cyber threats with NETGEAR Armor anti-virus and data theft protection for your home and all of your smartphones and computers. Free trial included. In addition, comprehensive Smart Parental Controls on the router let you easily manage content and time online on any connected device.
KEY FEATURES
Supports high definition video conferencing (Zoom, Skype, WebEx, FaceTime, and more) - Whether you work from home or want to connect with your friends and family you can video conference with crystal clear audio and video from anywhere in your home.
Orbi mesh Wi-Fi system (3-pack) - The award-winning Orbi technology delivers high-performance whole-home Wi-Fi. Super-fast Wi-Fi up to 1.2 Gbps keeps up with your family's streaming, gaming, and surfing needs.
Up to 4500 sq. ft. of Wi-Fi coverage - This three-pack mesh Wi-Fi system includes one Wi-Fi router and two satellites to provide reliable coverage up to 4500 sq. ft.
Replace your existing Wi-Fi router and Wi-Fi extenders - Compatible with all Internet service providers (ISP) and recommended for homes with up to 50 Mbps Internet plans. Just connect to your modem to create high-speed Wi-Fi for your whole home.
Simple setup - Set up in minutes, and manage your home Wi-Fi with ease using the Orbi app. The compact, modern design of the router and the satellite fits in well with your home décor.
Single network name - Enjoy the convenience of a single Wi-Fi name for your whole home with a seamless connection as you move from room to room.
NETGEAR Armor cyber security - Anti-virus and data theft protection for all of the smartphones and computers on your network. Protects your connected home from Internet threats. One month of service is included.
Smart parental controls - Easily manage content and time online on any device.
Ethernet ports - Two Gigabit Ethernet ports (1 WAN and 1 LAN) are available on the router.
Works with Amazon Alexa and the Google Assistant - Use simple voice commands to control your home network.
Guest Wi-Fi network - Provide Internet access to friends and family without sharing your personal network password.
Additional Information

Model Number: RBK13-100NAS

UPC: 606449144055
Share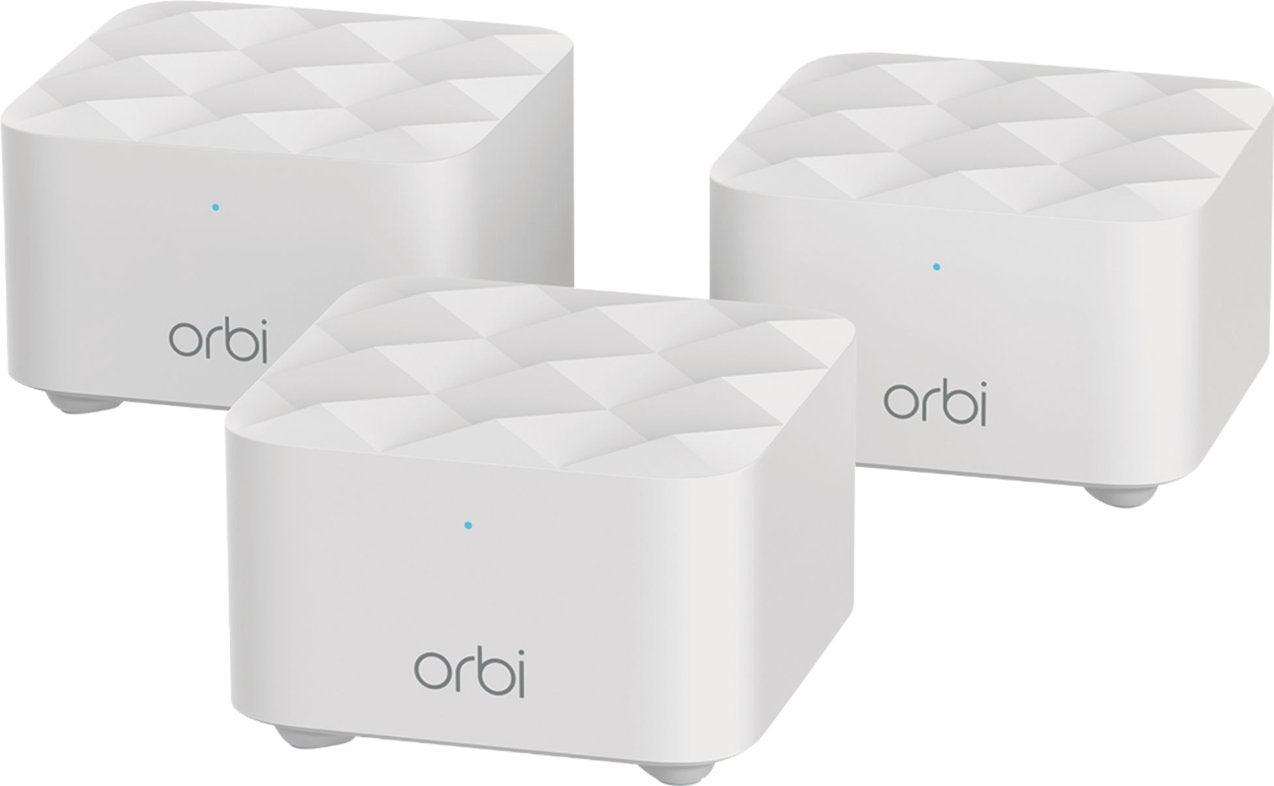 Condition Guide